SUNDAY 29th MARCH: Arm Balance Workshops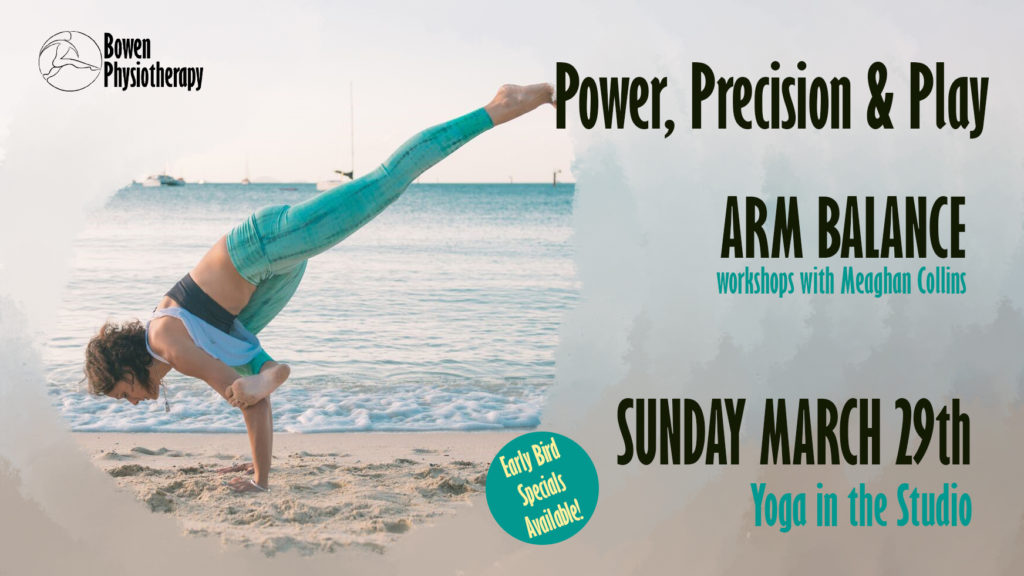 8am SESSION 1: Crow / Side Crow
introduction to arm balances
12pm SESSION 2: Eka Pada 1&2 / Firefly
arm balance extension
Bowen Physiotherapy presents two 'play-shops' for Yogis who are curious about Arm Balances and who would like to challenge themselves physically as well as mentally.
While arm balances may seem daunting and far beyond our reach, the truth is there are ways any Yogi regardless of experience can start to work towards accomplishing these poses, which at their very core… are just a little bit of fun!
Join Meaghan Collins, teacher of 16 years and long-term advocate for approaching Yoga with a sense of playfulness, as she helps to break down these poses into bite-sized and achievable pieces. Her alignment based approach to these postures will empower you with an understanding at what you need to work on to make them work for you!
While all levels are welcome please check with the teachers at The Studio if you have any existing injuries before booking in.
EARLY BIRD SPECIAL DISCOUNT AVAILABLE – PLUS 2 SESSION BOOKING BONUS!
SATURDAY 9th MAY: Mother's Day Restorative
3:30 – 5:00pm RESTORATIVE YOGA SESSION to Live Local Music; hosted by Faraday Rosenberg
Take an hour for yourself and enjoy a sooting yoga sequence, developed for mothers. A spacious, simple & slow practice to help you restore, reset and fully relax.
This healing yoga session takes place to the sweet sounds of gentle music being played live by local musician in studio. Let the sound ease you into each gentle position while our instructor looks after YOU.
The session price includes locally supplied delicious nibblies as we mingle after the practice.
EARLY BIRD SPECIAL DISCOUNT AVAILABLE NOW – BOOK TODAY!